Our History
Since 1880 we have been providing the highest level of service to our clients who are moving Locally, Nationally and Internationally. Here we show some of our key moments throughout 140 years.
1880
Possibly even before 1880, the generally accepted start to our wonderful company. The photo of our horse and cart was taken in a field we owned on the Reading Road, Henley on Thames, adjacent to Grange Avenue. The horses needed to be changed at Slough if heading into London, to be rested and another set of horse provided, then swapped back again at Slough for the journey back to Henley – All in one very long day!
1920
At this stage our company was in full swing, with a depot in Deanfield Avenue and a shop on Friday Street selling curtains, carpets etc. both in the centre of Henley on Thames. Horses and Carts were still used but we had moved onto the likes of this original 1929 Morris Commercial to undertake smaller moves – our livery at this time was actually green and white, not our brown and yellow!
Did you know?
Our livery used to be green and yellow? This was changed in the 1960's to the current blend of brown and yellow. We did this to bring the colour schemes of all our companies into one set colour - the brown and yellow!
1960
Horse and Cart's now completely out of the picture and very modern, fast and reliable vehicles now on our fleet including this photo of an original 1959 registered Bedford. These vehicles literally cut days of travelling times up and down the country. We also started to use the Henley Railway Station to load specialist containers (liftvans) onto trains for clients moving around the country. Utilising the train network enabled far longer distance moves to be completed by our company.
Did you know?
In the late 1970's our industry changed the way we store client's effects, traditionally they were stored in Depositories and the items had to be handled multiple times to place them in the storage location. We and a few other companies developed the wooden container system meaning that we had specialist vehicles built to carry these portable containers, thus reducing the manual handling from 3-4 times down to only once! Enabling a secure, safe and professional environment for storage. The more you manually handle furniture or effects, the more risk there is of damage or loss.
1980
By now we were operating a fleet from Henley of about 15 pantechnicons, which covered all areas in the UK and Europe with ease and efficiency. The pictured Volvo truck is late 1980's and we believe is in London somewhere!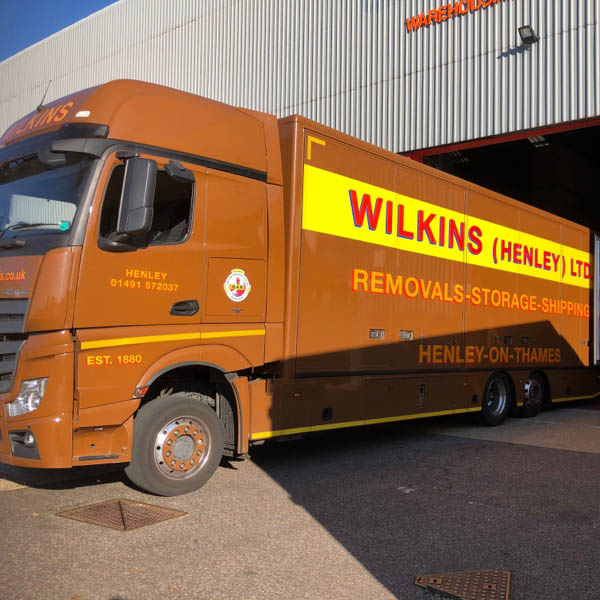 2000
The turn of the Millenium saw the housing market stable and grow rapidly, creating a large increase in clients moving home and a large increase into International Relocation. The world was on the move!
In 2009 we purchased another warehouse in addition to our Henley one, in Marlow. The Marlow facility was the first of many new additions to our companies facilities in the years to come.
2020
In 2016 we took the decision to develop our main Henley site into apartments. This then enabled us to purchase a new 4 acre purpose built facility in Reading which has the capacity to hold over 4000 storage containers, 30 HGVs and ample space for our offices to allow the steady growth of our company. We also welcomed Palmers of Windsor & Maidenhead into our Group of Companies in 2016, further enhancing our services to clients in Home Counties.